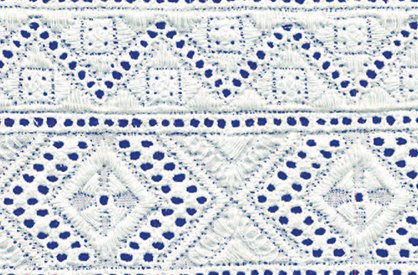 We are currently one of those leading manufacturers and suppliers of a wide range of premium quality embroidery laces. These embroidery laces are being made with the help of technological advancements and proper care. The pure quality of fabrics has been used to produce the best of the lot. The designs that these embroidery laces from our factory produce are so trendy that any leading eastern wear brands can very well avail it from us and get the enhanced look.
Embroidery places need a proper type of stitching through which first the design gets popped up then separately use it for other purposes. The first process of doing embroidery, if that is the purest of all, then has to be done with needle and thread to get the best handwork products so far. There are machine embroideries too, but we as a company do not encourage any mixed work; we will provide you the best of all at any given time.
The process of making these particular types of nets is quite like this, woven fabric with thread removed in a particular place to make a grid, amidst the other qualities of Tenerife lace and as well as nanduti lace. The process takes a lot of time because making designs via threads happens to be human-dependent, and a lot of admixture of bright colors on it even exhibits the total amount of beauty of it.
There are different types of threads on which mainly the process gets done, gachi, silk,tussar all those materials are the ones on which laces are being used, coming to another vital point these laces that are made in our company that does not only get used for attires, items like curtains, table cloths, dining table covers, sofa set covers, landline covers even for various ritual purposes also that get used.
The quality is so thin and pure, so transparent that it can easily come under the palm of hands; every single corner of the design will make the customer know that what kind of physical labor has been invested in getting such perfection. Possibilities like damage, getting teared up do not go for this option cause the best amount of technicalities have been dependent here.
This segment of hand embroidery and machine embroidery are supposed to be done by our companies also. Various color options are available. The most genuine part of our business is we can immediately provide a picture of the places you want. People who will place orders in bulk will get handsome offers as well; we do provide our service all over the world, so if someone wants to do the job, they can contact us for the franchise services, and prompt responses will be given.
Apart from that, if you go by the detailing, you will also get to see that all the retail markets over India, take our products to run their businesses also, we encourage a lot of people for the hard work. If people want to run a business properly, then we can also expand our hands of help.